Filharmonie Brno's Exposition of New Music Will Start Next Tuesday
The exhibition will offer six concerts in Besední dům and a non-traditional project in Brno's Kamenná čtvrť. Photo: Plum, Vítová. Credit: Filharmonie Brno.
Brno, June 8 (BD) – The 35th edition of the Exposition of New Music will start on 13 June. The exposition is subtitled "MUSIA FALSA I MUSICA VERA" (False and True Music) and focuses on the space between composition and improvisation, with the aim of defending the 'authenticity' of all good and compelling music, however it was created. The exhibition will offer six concerts in Besední dům and a non-traditional project in Brno's Kamenná čtvrť.
Next Tuesday, the festival will be opened by the Berlin-based experimental psycho-acoustic clarinet duo The International Nothing, who will introduce their latest project "Just None of Those Things" to listeners.
"The renowned duo has released five albums and their concerts have a well-deserved reputation for incredible artistic experiences. We will hear their next unique concert, in which the music is created through improvisation, but gradually takes on a more or less stable shape," said festival dramaturg Daniel Matej.
Wednesday's concert will focus on graphic and otherwise "open" scores. The international group Prague Improvisation Orchestra will perform works from the New York school (Brown, Wolff), as well as from the Czech-Slovak underground (Adamčiak, Grygar, Steklík). The program will be complemented with compositions by ensemble players Burkhard Stangl and Petr Vrba.
"A lot has changed in the 70 years since the first wave of graphic scores appeared," said double bassist and orchestra co-founder George Cremaschi. "A very fruitful middle ground has emerged between traditional forms of composition and improvisation. Simply put, the concept of improvisation has stretched to infinity, so in theory almost anything is possible. Compositions using these various possibilities have become very widespread, and have even become commonplace. The so-called perfect musician of our time is adept in many spheres."
Annabelle Plum and Žaneta Vítová, who will perform on Thursday, work together on music for experimental voice and accordion. Their project "Interference" is based on their joint debut album, where the musicians express fragility and harshness at the same time, transporting listeners to the world of distant Africa and back to the Czech meadows and groves, all with a strong theme of an ecological appeal. "We can look forward to an unusual sound-poetic painting meandering between everyday life and intense emotionality," noted Matej.
The "Here and Now" project will premiere on Friday evening. This project was commissioned by the festival and will be performed by the Pavel Zlámal Contemporary Ensemble. The seven-member ensemble of classical, contemporary and interpretive jazz players will perform a range of open author compositions, collective and controlled improvisations.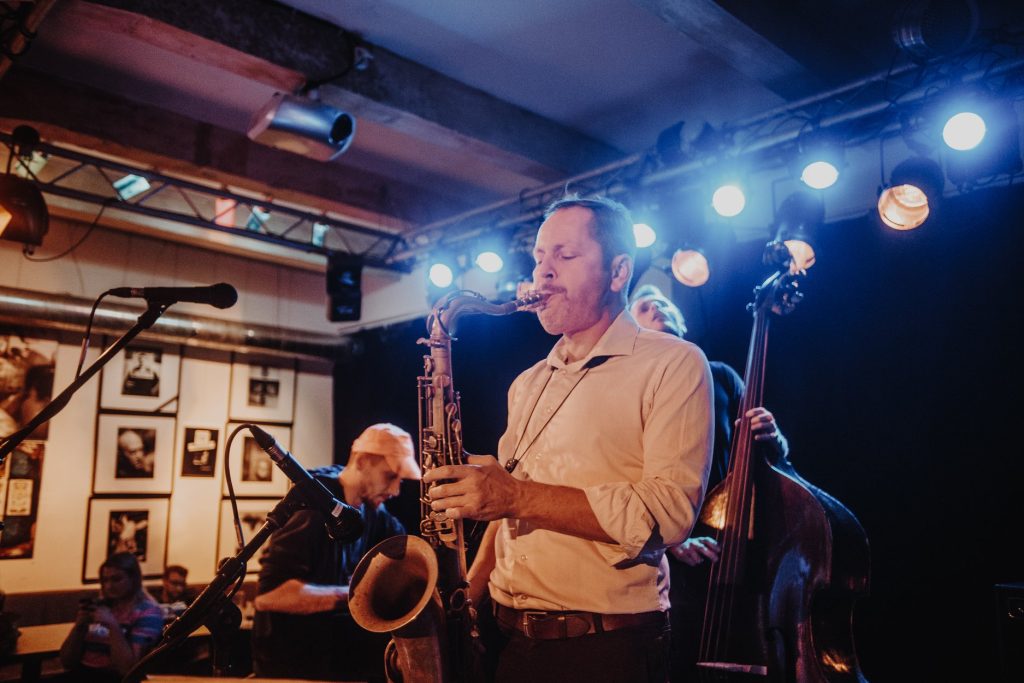 "The building block of the work is that each of the players presents their musical and improvisational abilities, and the compositional process is the musical organisation in the present tense," said Zlámal. "This organisation is based partly on a prescribed score as well as on interactive collaboration, on intuition and on the conductor's signalling. Music is thus not only the result of rehearsed or composed phrases, but also of musical ideas created on the spot."
At Saturday's concert, "In situ", three outstanding personalities of contemporary improvisational music will meet, each initially in solo and then in a joint composition commissioned by the festival. The Austrian trumpeter Franz Hautzinger is a stylistic creator who has been involved in the development of improvised music for three decades, similar to his colleague Hilary Jeffery, a British trombonist, composer and improviser living in Berlin. In contrast, the Portuguese trumpeter Susana Santos Silva, settled in Sweden, represents the youngest generation of improvisational artists. Her music is extremely mature, full of imagination and a new sensibility. The trumpet, Alpine horn, and trombone will grace the halls of Besední dom.
The Brno Contemporary Orchestra (BCO) will expand the reality of Kamenná čtvrť. This Sunday project in Besední dom will symbolically connect two places and "two Czech nations" living in Brno in the middle of the 19th century. "On the one hand, the one who could afford to order the services of Theophilus von Hansen, and the other, who toiled to exhaustion in the Brno factories. They didn't meet each other much, even though everyone was waving at ordinary people," explained Viktor Pantůček, dramaturg of BCO.
The composition "Kamenná čtvrť" by Michal Nejtek was co-commissioned by the orchestra and the festival. "My impression is that music, and new music in particular, only makes sense if there is some life-giving emotion hidden within it, some spiritual background that can nourish and feed the various forms," said Nejtek.
"The composition contains two workers' songs, whose expression and meaning are opposite, and from this tension grows, I hope, a new quality. The composition is dedicated to Brno's Kamenná čtvrť and to all those who hope for a new and better tomorrow."
First, a fanfare will be heard from Červené kopec, with a brass band setting to music the workers' song Kluci ze Starák, which was sung by Flemish people in a brick pub. In the subsequent somewhat mournful song "Hour after hour", woodwinds, drums and recordings scattered around the area will be added. Listeners can browse and create their own version of the song.
"The ordinary reality of a Sunday afternoon will be expanded by a musical experience, something that used to be here and is no longer there. We would like it if the musicians could play from the windows or on the roofs, so we are asking the residents of the colony to symbolically open their doors," says Pantůček.
Nejtek's composition will also be heard at the evening concert in the Besední dům, supplemented by four other compositions. First, Hyperprism by Edgar Varès, whose premiere a hundred years ago ended in disgrace. "It contains brass and a big drum set, and it goes beyond the three dimensions we can track. We've read about a lot of songs that they're great without hearing them; we can read about this one that it's a flop, and it's definitely worth a listen. It is different, spontaneously improvisational, although strictly notated," says Pantůček. The following piece JMF for DM was composed by Daniel Matej in a cast for various instruments; it will be heard in Brno in a version for an instrumental ensemble without an obvious soloist.
"It is a verbal score in which traditional musical notation is completely absent and all action instructions are expressed verbally," said Matej.
The final composition of the evening and the festival, "Workers Union", by Dutch composer Louis Andriessen, requires the performers to play until they are completely exhausted, as if they were working on an endless factory belt. "It is written for a free cast of loud instruments, and its basis is a strict rhythm layered into closed units," explained Pantůček.
All concerts take place from 7pm in Besední dům. Tickets are available at the Filharmonie presale or online at filharmonie-brno.cz. One single entrance fee is CZK 150, with reduced tickets CZK 75. Tickets for a second festival show have a 20% discount, and up to five or more concerts a 50% discount. The afternoon project in Kamenná čtvrť is free.
https://duzr.site.brnodaily.cz/2023/06/08/culture/filharmonie-brnos-exposition-of-new-music-will-start-next-tuesday/
https://duzr.site.brnodaily.cz/wp-content/uploads/2023/06/Plum_Vitova.png
https://duzr.site.brnodaily.cz/wp-content/uploads/2023/06/Plum_Vitova-150x61.png
Art & Culture
Brno,Culture,Events in Brno,News
The exhibition will offer six concerts in Besední dům and a non-traditional project in Brno's Kamenná čtvrť. Photo: Plum, Vítová. Credit: Filharmonie Brno. Brno, June 8 (BD) - The 35th edition of the Exposition of New Music will start on 13 June. The exposition is subtitled "MUSIA FALSA I MUSICA...
Evelyn van den Berg
e.vandenberg3@students.uu.nl
Author
Evelyn is a student in Intercultural Communication at Utrecht University. She is enthousiastic about writing, reading and traveling.
Brno Daily