We Are The Night Part XVI: Explicit Collective
Our series, "We are the night" presents artists, promoters, production managers, label owners and others who are bringing the music world of the Czech Republic forward, from the past to the present and the present to the future. This week we present the second part of our interview with Explicit Collective, a Brno-based events and creative collective. Photo credit: Thomas Duong.
Brno, Apr 27 (BD) – Local initiatives run by passionate people are often the genesis of original collective events, bringing global trends, avant-garde steps of joyful musical experience, creation and expression, from their territorial roots into digital trademarks.
Brno's Explicit Collective combine all these elements. To find out more, I sat down with them over coffee to discuss what they do…
Where did you grow up?
De: I grew up in Velké Meziříčí, a small town in Vysočina. I was living there until I moved to Brno to study at the university.
Vit: …straight outta Padec.
Krabs: I'm from Tasovice, a small village near Znojmo, which is about 60 km south of Brno.
What is your first memory of music?
D: Probably one of dancing to the sound of a radio in our kitchen, which I feel was always on, or seeing my brother produce some beats in his Fruity Loops studio. Not sure of my age, but both were when I was a little kid.
V: If I remember correctly my first encounter with electronic music was in my grandma's kitchen. We were having breakfast while listening to Český rozhlas and Cher's song "Believe" was playing on the radio. About 10 years later I suddenly discovered that it was this song I heard on the radio at the time.
K: I've got a scar on my forehead from slamming my head against a bed frame when I was dancing too hard. I would have been like 5 at that time, so probably that. The song was David Hasselhoff's "Hooked on a Feeling", by the way.
Do you have any musical education?
D: Not really.
V: I guess none of us
K: Nope.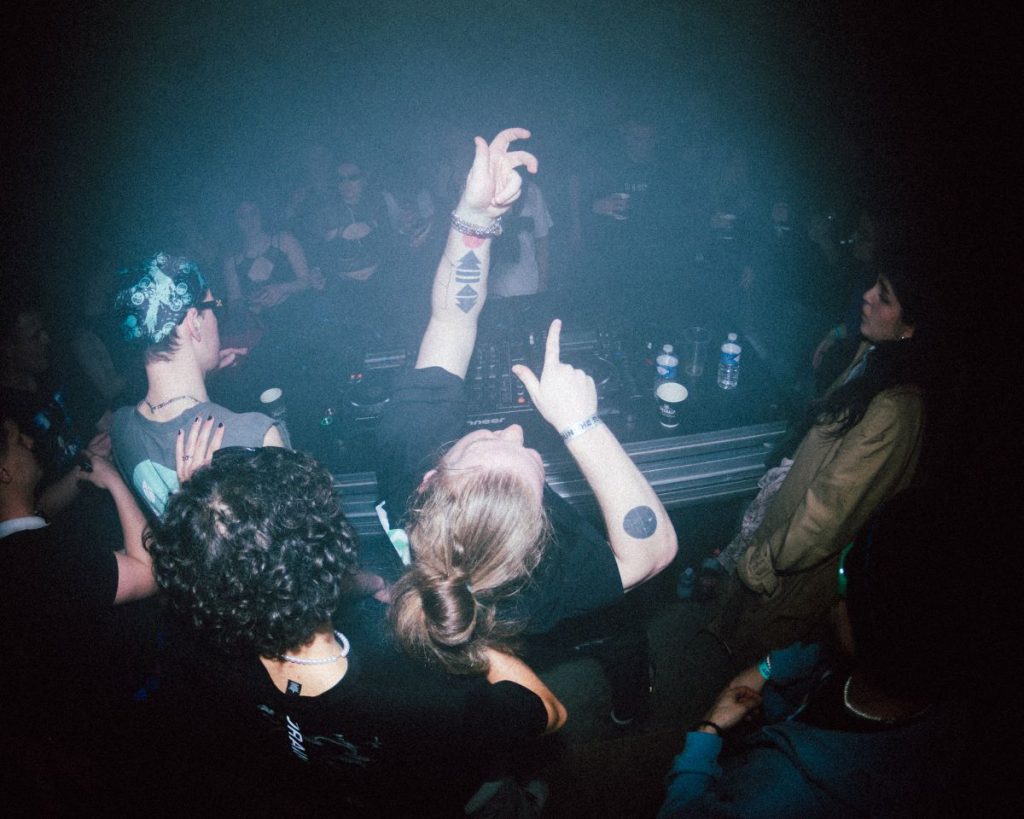 When did the core of your crew meet and how? And when did you start working as the Explicit Collective?
D: We met at a party in Brno, where Vinfield and Krabs were DJing. Someone told me about it and I came. They were playing these heavy hitting trap sounds to an empty bar and I loved it! It did not take long before me and Vit decided we should organise a DJ night which would fit our sound preferences. The first Explicit event happened in December 2016.
K: I lived in a flat with one DJ so I had already tried DJing a few times, but then Vit moved in to the same flat and let me play on his DJ controls more, and we also played a few gigs in empty bars together! That could have been a few months before we met Dominik.
Where did the first events take place?
D: Eleven Club at Brno.
K: Then we moved to Fléda for some time.
V: …and then a long time in ArtBar. However, we organised the most recent event at Industra.
What values or message is your collective promoting?
D: Collectivity and unity. Being yourself even if it needs a bit of Explicit behaviour. Authenticity. Just do you.
K: Also inclusivity. There is no place for racism, queerphobia or other bullshit like that. These words still need to be said and heard.
Today, what kind of events and activities (in and out of music) are you involved with?
D: Events (raves) are still the forefront of our activities. However, we are not limited to that. We are into clothing production, sound design and media content in general. Last year, we hired several interns, who are helping us execute our ideas, and we provide the platform to let them learn new things and grow creatively.
Correct me if I am wrong but you also have artists/producers as part of your collective who play often, such as Krabs. Can you tell me more about such collaboration?
D: All of us three founders are DJs – each of us performs separately or together as Explicit Sound. Some of our interns DJ or produce music as well. We usually collaborate with other artists externally. It gives us more freedom and lowers the pressure of an in-house production team.
K: I like playing often at Explicit events 😁
I see you have now started doing events outside of Brno, but in general what do you think of the expansion of the music and culture offered in Brno in recent years?
D: We actually only do events in Brno. We have done one event in Prague, but that was a couple of years ago. However, as Explicit Sound, we perform elsewhere. Anyway I think the current bloom is mostly connected to the post-Covid era and the possibility to hang around freely again. I think Brno needs more clubs and collectives and I hope the scene will flourish more and connect more as well. I guess the fresh air is coming up ahead.
K: If you are asking about music and culture in Brno, it is literally blooming! And in the whole Czech Republic, actually. Many new DJs and artists are popping up, everyone just doing their thing. Also some new people are now more into organising events. The Boys from Hazed are making some big moves. What was seemingly insignificant but for me a really important step for the Brno music scene was Infame radio. It just started last year and I think it's on its way to become an awesome national or maybe even international medium for DJs and listeners.
I would say that Prague and Brno are filling the gaps in terms of music range and vitality of their respective scenes, what do you think of that statement?
D: Well I'd say the quality is equal no matter the location – not only limited to Prague and Brno, but wherever. Prague has an advantage of its size and an infrastructure which is not the same anywhere in the Czech Republic. I'm talking about the quantity here – the number of residents and fans, artists, clubs but also media etc. I think the gap between Brno and Prague is here to stay until bigger infrastructure is created in Brno as well. I feel like everyone is pretty focused on Prague and the "culture" is centralised there, but I don't see any need for that. There is a huge potential for Brno to finally fill the gap.
K: As Dominik said, a big chunk of culture is happening in Prague. They can afford it because there are so many people. Brno is more community based in my opinion. This city is getting better and better each week with its events and bookings. Not so much with the big names like in Prague, but more and more smaller but awesome artists from central and eastern Europe are finding their way to Brno.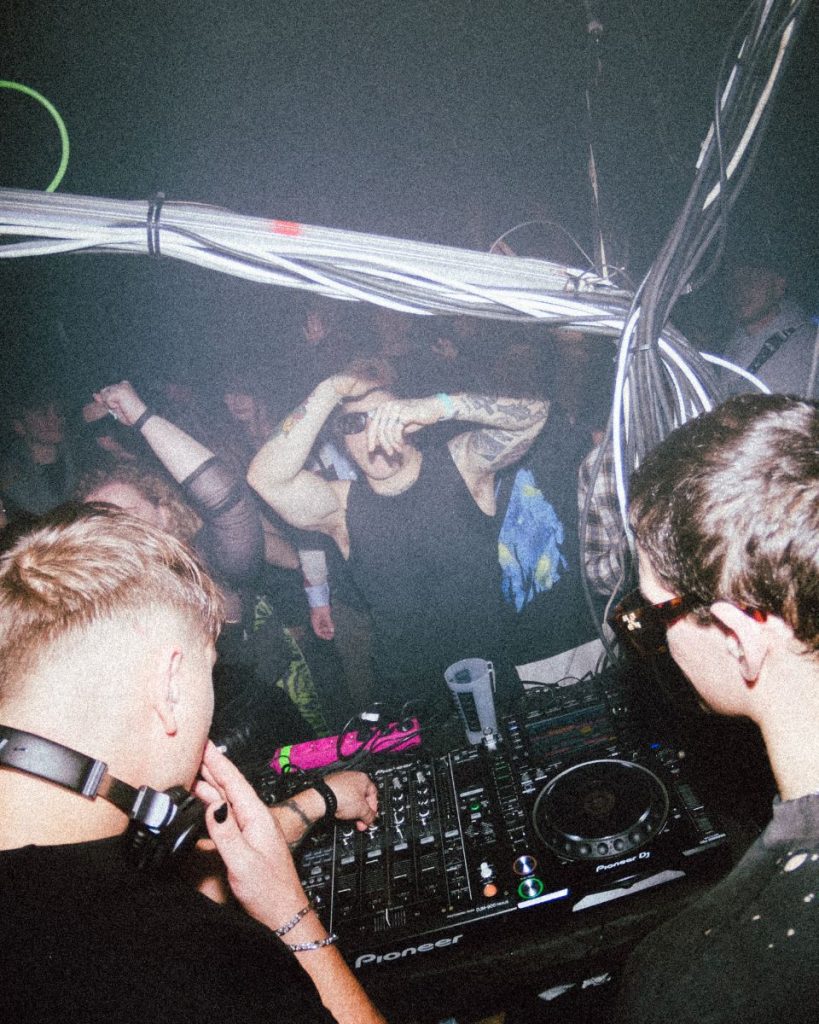 What are the next steps for your collective? You now have Industra as a new place for parties, can you tell me more about that?
D: Industra is one of the main challenges we're facing now – and we're very excited for it. It's bigger than the previous venue, but not huge. It opens up new possibilities for stage design and it offers a whole new atmosphere in general. We're planning to add more community events in between the major events and going on a little "tour" around the Czech Republic and Slovakia as Explicit Sound. Some printed media and new wear are in the making too. We're focused on stabilising the platform and the team, and making sure that we are no longer perceived purely as an event platform, but as a creative platform.
Can you name 3 songs that you would like to share with the readers (any song).
D: It's always too hard to choose one or just a couple of tracks. That's why I love DJing – I can always choose more. I'll leave the clubby stuff in the club. Out of the club, I'm really into those atmospheric, beatless but melodic and emotion filled sounds lately. Torus – "Sound of The Drums VIP" is a nice example.
V: We put most of the songs we play in this playlist, but if I have to single out one track it would be: DJ Europarking aka Dollkraut – "Boompahpah".
K: P H Y S A – "Beurrepoint Blanc"
You can find out more about Explicit Collective via their website, YouTube, Instagram, Facebook, Mixcloud, or Soundcloud.
https://duzr.site.brnodaily.cz/2023/04/27/culture/we-are-the-night-part-xvi-explicit-collective/
https://duzr.site.brnodaily.cz/wp-content/uploads/2023/04/explicit-collective-fetured-img-credit-dominik-jnousek-1024x683.jpg
https://duzr.site.brnodaily.cz/wp-content/uploads/2023/04/explicit-collective-fetured-img-credit-dominik-jnousek-150x100.jpg
Art & Culture
Brno,Club Night,Clubbing,Culture,Events in Brno,Music,We Are The Night
Our series, "We are the night" presents artists, promoters, production managers, label owners and others who are bringing the music world of the Czech Republic forward, from the past to the present and the present to the future. This week we present the second part of our interview with...
Anthony B.
biasiolianthonypro@gmail.com
Author
Music is a universal language, the one I prefer to use, from first notes of rehearsal to stages, between studios and official releases, I like to comment, spread and analyze, since two decades, new trends and old school movements, hoping a giant sound system will finally save the world...
Brno Daily