We Are The Night Part XIII: Aiko
Our series, "We are the night" presents artists, promoters, production managers, label owners and others who are bringing the music world of the Czech Republic forward, from the past to the present and the present to the future. This week we present an interview with alt-pop sensation Aiko. Photo credit: Teki Shine.
In the world of algorithms, sometimes after a little research, some platforms got it right and suggest you songs which give you the wish to dig into an artist's productions a little more.
This is how music is spread in 2023, and also how I came across the track "Restless" by Aiko.
I was instantly caught by the strong musical identity, of a pop song which does not really look like the others, with English lyrics for someone based in the Czech Republic. I decided to take the opportunity, before the release of her new single on 13 January, to get to know a little bit more about her, and presenting this to you, hoping that for once, readers will be influenced by something deeper than an algorithm…
Where do you come from, and where did you grow up?
I was born in Moscow, Russia, but when I was 5 years old, my family and I moved to "Europe". I say Europe, because we bought a car and travelled all over Europe until my parents decided to settle down in the Czech Republic. I remember being so small that I could fit in the back of the car with my legs stretched, good times! I grew up in a small town called Karlovy Vary.
What is your first memory of music?
I think I started expressing my interest in singing and music very early on, and my mother luckily caught on. One of my first memories regarding music was when I was about 4 years old and my mom tried to take me to some singing classes – we went together, it was a lady in her mid 30s playing keyboard. It was really cute of my mom to take me, as she's a reaaaally bad singer (as I tell her all the time), but she was keen on developing her daughters passions!
Did you have any musical education?
Partially. I've done a lot of singing lessons and some guitar/piano lessons. Neither of the instrument lessons really worked for me, I don't really know how to play piano and am mostly self-taught on guitar, to this day I only have a basic understanding of musical notation. I did study Music at the University of Westminster though.
When did you start getting seriously involved in music?
I started doing some writing around the age of 13, but really started pursuing it when I was 15 and got into a TV talent show called "Superstar" – I got all the way to the semifinals, and it was the moment I realised I truly wanted to pursue music. I had little knowledge how to do things and no guidance, as nobody in my vicinity was making music and I had no one to ask, so I had to learn everything step by step.
When did you start your performing as Aiko?
I started performing around 2017 and released my first eponymous EP "AIKO" in 2018.
Why did you choose Aiko as your artistic name?
It's a combination of two things – at the time, I visited Japan with my family and had complete obsession with their culture. At the same time, "Ajka" is my childhood nickname, so it felt like a nice connection.
How would you describe your music? And what are your main musical and non-musical influences?
We were once joking around with my producer and described my music as "dramatic pop", which I think fits perfectly. In more conventional terms, I'd call it alternative pop.
When it comes to influences, it's often Aurora for her dramatic production, combined with very soft vocals, love love that. Lately I have been listening to a lot of rock music, so elements of that started appearing in my music as well. But I'd say that lately, I just go for what "feels right" and evokes emotion.
Could you describe your production process? Has it evolved with time? Who are the producers you work with in general?
I write all of my songs myself, so typically, I come with prepared lyrics and melody, that I come up with at home. Sometimes, it's not fully completed and we finish it together. But mostly, we focus on the production together – I always send some references of things and sounds that I like and then we go on and use some elements combining them with my sound. Most often, I work with Steven Ansell or Filip Vlček, but I'm always open to working with other people. Of course my productions have evolved with time and now I am finally at the point where I sometimes shamelessly listen to my own music as I think it's good!
What about lyrics? What are your main themes?
Lyrics have always been very important to me, but I don't really have a main theme – as mentioned earlier, I go for the feeling. When I sit down and write I think of how to make the listener feel a specific way – be it warmth and love or excitement. I do tend to write a lot of introspective things – about my personal feelings or about career.
Most of your lyrics are in English and some in Czech? What do you see as the main difference in musicality for these two languages?
For me personally, I just prefer to write in English, it comes to me more naturally. It might have something to do with how I consume music and media – everything's in English. At the same time, I love languages, and exploring writing in Czech has been completely different for me, the way words bounce and I express myself is a lot different. It also almost feels as if my lyrics are very exposed, almost too personal.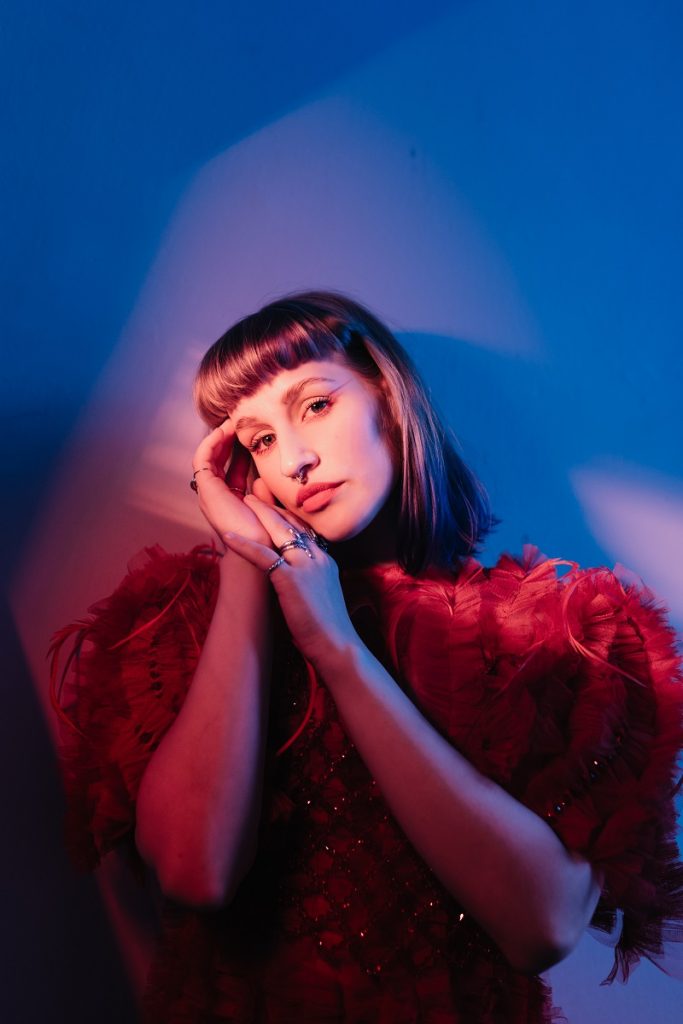 You already released one album and a second is coming up in 2023. When do you plan to release it, and what are the main directions you want to take for this new release?
Yes! The plan is to release it in autumn 2023, but we'll see how it goes and it might come a bit earlier! The process of this album has been long in the making – the genre of the songs is different, I've gone in a bit of a rockier/darker direction. I explore the emotional spectrum of love, from heartbreak to absolute infatuation. I've worked with many different producers on this one and I'm very excited for the world to see it! The goal is to plan the release properly – previously, when I released an album, I didn't have any follow up tour/gigs/press scheduled, but I was also still learning.
You are an independent artist. What do you think are the positive and negative points of this status?
Yes, I've been an independent artist my entire career and it's a lot of work! I'm lucky enough to currently have a team around me – management, booking and a band, so it's not just me doing all the work! I've also recently got involved with a publishing company.
But it's a rollercoaster – you can put maximum effort into a release and you don't have any guarantees. You have to do all the PR prep, you have no guaranteed playlisting, and you also have to fund all of your projects.
At the same time, there's the other side of the coin, where you have all the artistic freedom, you get to plan and execute everything the way YOU want it and at the end of the day, collect all the finances. You know that you and your team are responsible for your achievements and for me personally, it's a very satisfying feeling! And in the new age, where TikTok is rising to rule the music industry and even labels aren't sure what to do, it makes a lot of sense to be independent and collaborate with other people for a share, but to still own your music.
You do quite a lot of concerts in diverse European countries. What are your best memories of live gigs? Do you have a live band configuration? Any favorite crowds?
We've played loads all over Europe this year! It's fun when you get to travel to interesting places to perform. For me, it was Skopje. I wouldn't have though of it as a vacation destination myself, but it was interesting to get to visit it while performing! Otherwise, yes, we've played in Sweden, Germany, Austria, the UK, and the Czech Republic, of course. Live gigs are always great because you can actually see people's response to your music, and test out which songs work live.
I do have a different live setup, I mostly play with a band – a drummer and a guitarist. Sometimes you can still catch me with a dj set though, where I perform with backing tracks.
What are the main differences between UK and the Czech crowds, in your opinion?
Hmm, not to go against Czech crowds – but I had the experience where Czech people, although they might love your music, go into the "impress me" mode, whereas in the UK, when they see a good band, they automatically tune in, not even knowing the words. It might also be because I'm singing in Czech though. I love both crowds regardless!
Did you ever play in Brno? How was it?
Yes, a few times! And it was great every time – last time I opened for Princess Chelsea in Fléda and it was a really good crowd and a great stage, I really enjoyed it! On the other hand, accommodation in Brno is a whole other story haha. We got placed in a hotel that had a club right across the hall that had a Halloween party that night. How was that allowed by the city? Good question. We didn't get much sleep that night haha.
In general what do you think of the current Czech musical scene?
I think that the Czech musical scene is getting a lot better! We have a great alternative scene, the market isn't that saturated so there's still space to come in with something new and be well received. And many talented artists are rising, so it's about time commercial radio started accepting them as well!
Can you name three songs of different artist you would like to share with our readers ?
Always ready for that!
End of the Road by Noga Erez – just to add, absolutely love her production, I find Noga extremely cool! Saw her live this year and she was so good
Check out Aiko on her website, Instagram, or Spotify.
https://duzr.site.brnodaily.cz/2023/01/12/culture/we-are-the-night-part-xiii-aiko/
https://duzr.site.brnodaily.cz/wp-content/uploads/2023/01/Aiko_credit-Teki-Shine11-1024x683.jpg
https://duzr.site.brnodaily.cz/wp-content/uploads/2023/01/Aiko_credit-Teki-Shine11-150x100.jpg
Art & Culture
Aiko,Culture,Czech Republic,Music,Prague
Our series, "We are the night" presents artists, promoters, production managers, label owners and others who are bringing the music world of the Czech Republic forward, from the past to the present and the present to the future. This week we present an interview with alt-pop sensation Aiko. Photo...
Anthony B.
biasiolianthonypro@gmail.com
Author
Music is a universal language, the one I prefer to use, from first notes of rehearsal to stages, between studios and official releases, I like to comment, spread and analyze, since two decades, new trends and old school movements, hoping a giant sound system will finally save the world...
Brno Daily