Christmas In Brno: Where To Go and What To Expect
Every year at the end of November, Brno comes alive with the magic of Christmas. Here you can find all the information you need to enjoy the festive winter months. Photo: Zelný trh. Credit: CG / Brno Daily.
The most magical time of the Brno calendar is nearly upon us, and some of you have no doubt been waiting for the Christmas Market season for a while now. But what can you expect? What has changed? And which of your favourite traditions are returning, and where?
The main novelty this year is that, due to popular demand, the markets on náměstí Svobody and Dominikánské náměstí will remain open even after Christmas, seeing in the New Year and finally closing on January 5th 2020. But four of Brno's squares will be decked out for Christmas this year, all with different attractions and delights!
Náměstí Svobody
Christmas will arrive in náměstí Svobody as early as November 23rd, when a horse-drawn carriage will deliver the Tree of the Republic 2019. This heartwarming Brno tradition, inspired by the Christmas miracle, began exactly 95 years ago, and has been connected with Bílovice nad Svitavou for the last 30 years. The Tree of the Republic was meant as a symbolic reminder of what was needed during Advent, and the Dagmar Children's Home, which is celebrating its 90th anniversary this year, was originally funded using money from a collection box placed under the tree.
The Czech Red Cross, also celebrating its centenary this year, is organizing the transport of the tree from Bílovice nad Svitavou to Brno on November 23rd. The 13-metre silver fir will again come from the Bílovice forest, and will adorn náměstí Svobody in the excellent care of the Křtiny School Forest Enterprise.
Brno Christmas will officially begin at 5pm on Friday, November 29th, with the illumination of the tree and switching on of the lights, of course with a rich accompanying program. This year's Christmas atmosphere will be enhanced by green decorations and lots of lights on squares and streets.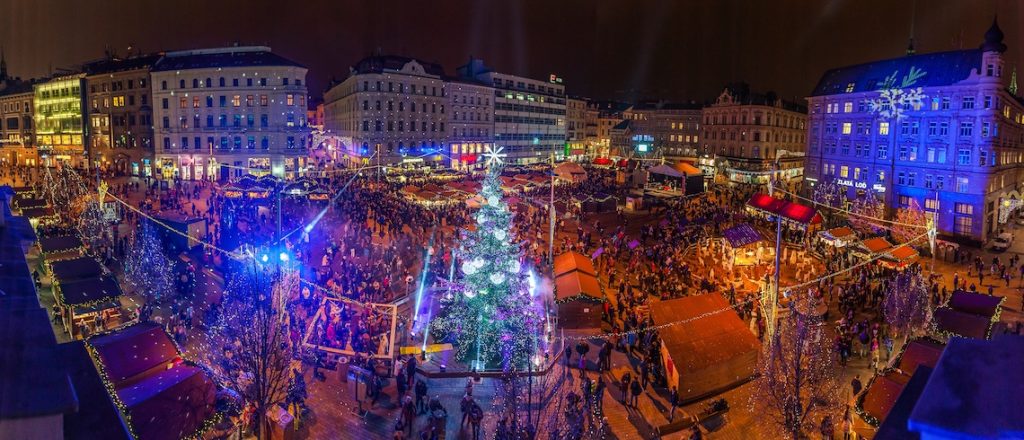 Alongside the tree, another key feature of the market in náměstí Svobody will be the brand new Winter Bar, with three roofs and three bars. Both the bar and the drinking zones near the fountain will be wooden, with illuminated metal stars above recalling the nativity. The traditional hot drinks will once again be served in returnable mugs and cups in all squares in the city centre, as for the last five years. The cups will feature two new designs by Michael Florian.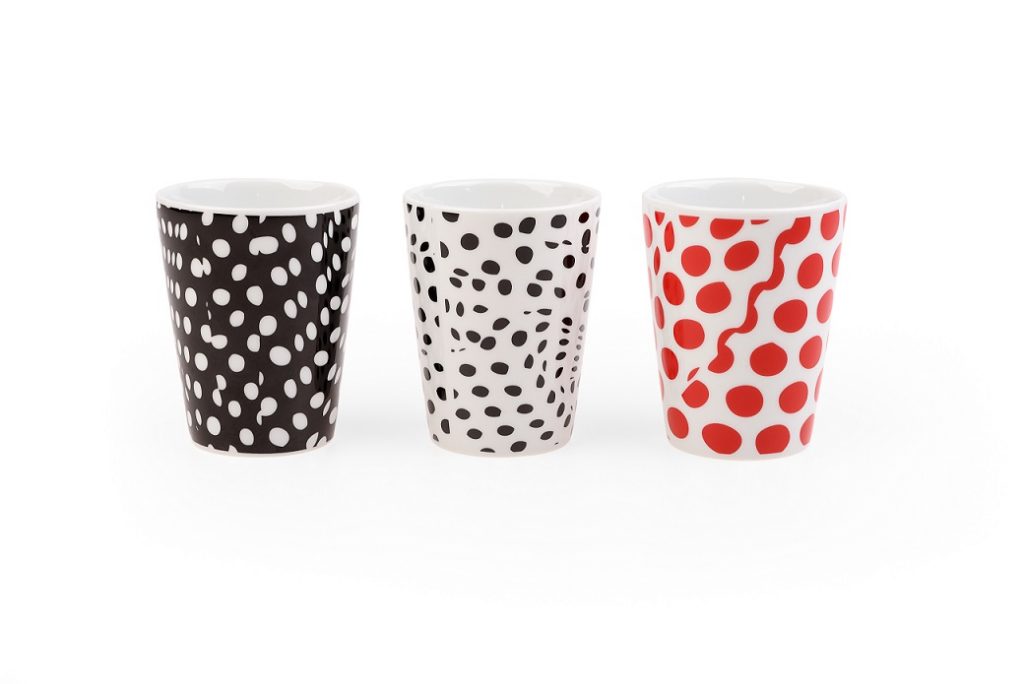 A daily musical program will also help with the Christmas mood, and not just in náměstí Svobody. Expect concerts from famous names including Ondřej Ruml, Čankišou, Pokáč, Věra Špinarová, and others, advent concerts from Czech Television, children's school performances, readings for children, and carols. For the first time, the program will continue until New Year's Eve, from 6pm to 9pm, ending with a light show.
The gift stalls will be open until December 23rd, and you can even find local designer brands during the December Design Days (December 16-23). At Christmas, we think not only of our loved ones, but also of those in need, so you will be able to contribute to the Czech Red Cross and other selected charities, as usual.
The craft stalls in the eastern part of the square will be open until December 23rd every day from 10h to 21:45. Food and drink stalls will stay open after December 23rd, as follows:
Nov 29th – Dec 23rd 10h – 21:45
Dec 24th 10h – 13:30
Dec 25th – 30th 13h – 18h
Dec 31st 13h – according to interest
Jan 1st closed
Jan 2nd – 5th 13h – 18h
Dominikánské Náměstí
An alternative to the hustle and bustle of náměstí Svobody are the more intimate surroundings of Dominikanské namesti, whose market focuses on gastronomy, Christmas traditions, and children's activities.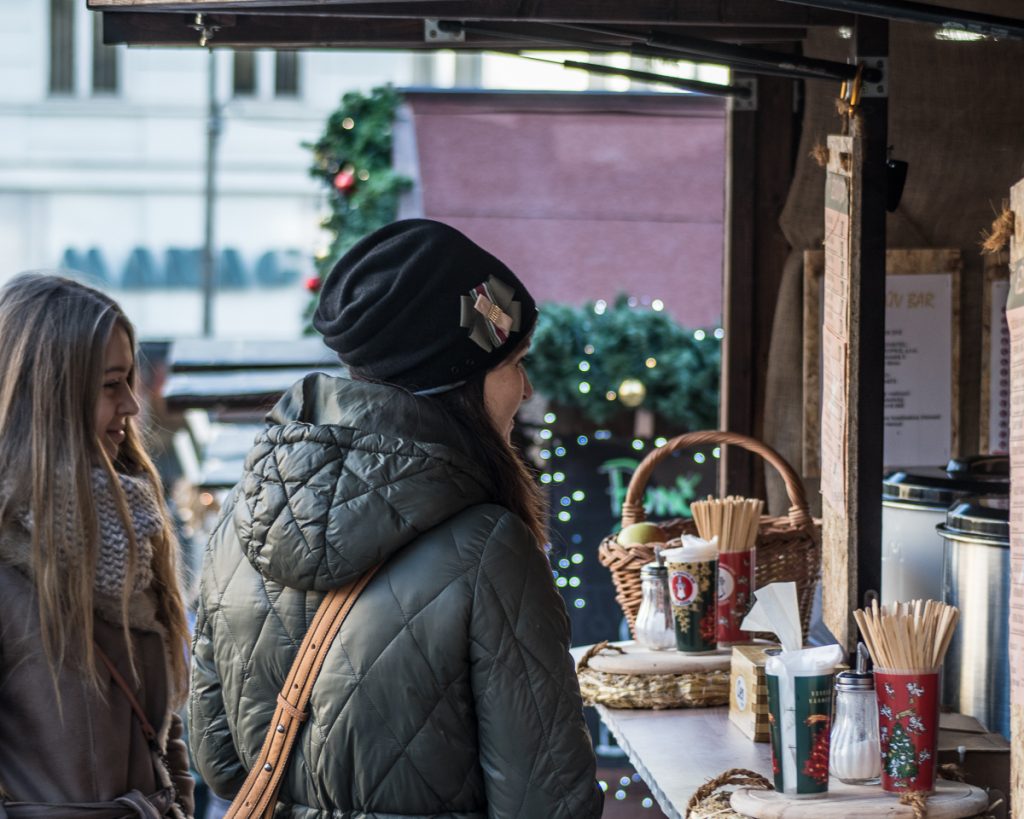 Traditional favourites such as the zoo corner and Jiří Halouzek's nativity scene will return again, as who doesn't want to stroke a lamb or goat?! And on Christmas Eve, Halouzek, creator of the world's second largest nativity scene, will appear with his sons to showcase his art and answer questions from the public.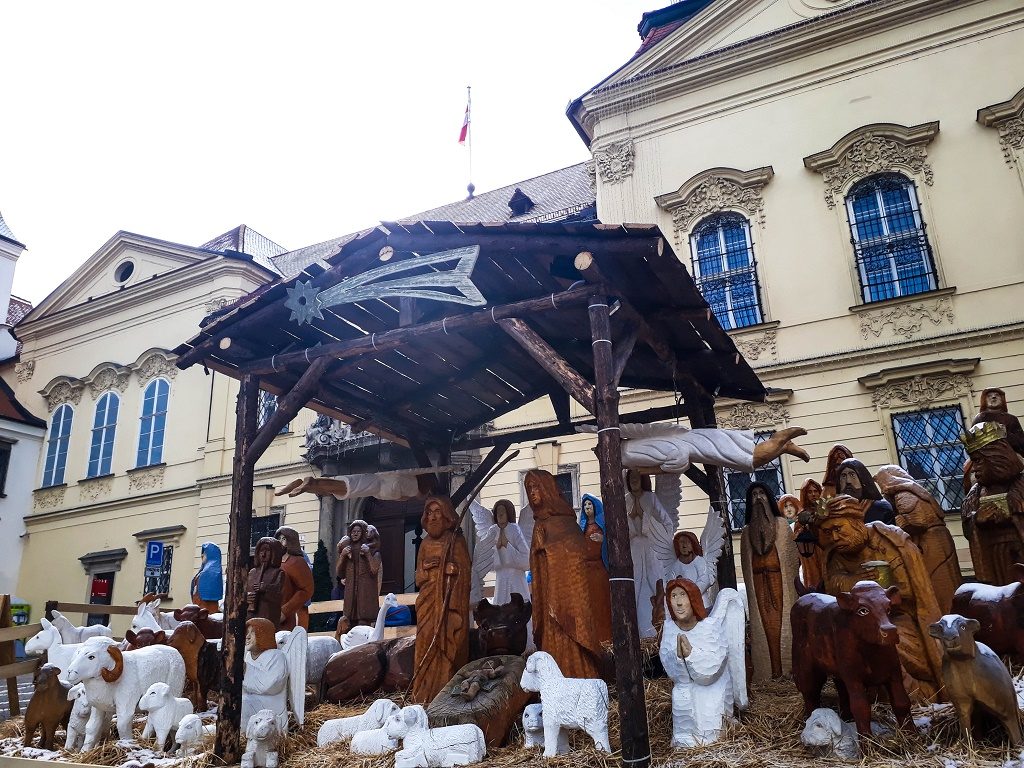 Children will of course be able to write letters to Ježíšek, and Christmas workshops will show them how to make beautiful Christmas decorations or maybe gifts for the grandparents. This year's entertainment for children will see the addition of a Winter Cinema, showing new and classic fairy tales and animated films.
Dominikánské náměstí's advent gastro delicacies will also be available until January 5th, including fish and chips, pierogi, langos, crepes, potato pancakes and oštiepok, washed down with wine, mulled wine, or turbomošt from the Christmas beer hall, Ježíšek's Bar, or from other stalls:
Nov 29th – Dec 23rd 10h – 21:45
Dec 24th 10h – 13:30
Dec 25th – 30th 13h – 18h
Dec 31st 13h – according to interest
Jan 1st closed
Jan 2nd – 5th 13h – 18h
Moravské Náměstí
The festive season will begin in Moravské náměstí on November 22nd, and run until December 23rd, organised by the Brno-Střed city district. The attractions at Moravák will again feature a bar complex in the fountain area, a big top and yurts hosting a rich cultural program, and last year's popular Ferris wheel.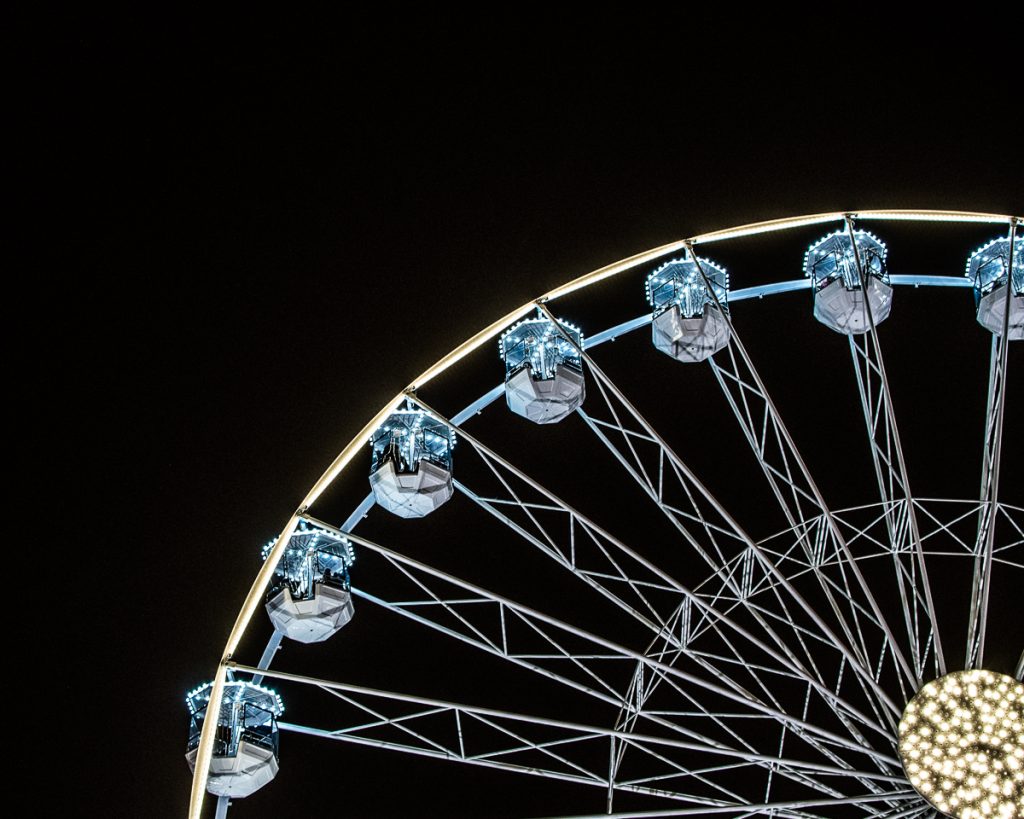 The big top will host stalls with beautiful traditional and modern handmade gifts, gastro delicacies and Christmas decorations. There will also be a heated tea and coffee bar in the yurt. One novelty this year is a yurt dedicated to the Bird Center o.p.s. rescue station. 
Advent on Moravák will again be characterized by a distinctive music program, created this year in cooperation with the Stará Pekárna music club. The music will take over the heated big top every night, with DJs following the concerts and playing until 22h, with swing and rock'n'roll dance performances. "Over 40 bands will be appearing at Moravák, including Laura and her Tigers, a phenomenal group with funky drive, punk urgency, jazz elegance and rock energy, Musica Balkanika, an international group that plays, sings and dances in an irresistible Balkan rhythm on the border between traditional Serbian music and gypsy jazz, and Band of Heysek, playing authentic, raw blues," said Tomáš Pavčík, director of the organizing committee.
The big top is not just for music, but also for kids, with fairy tales for children every Saturday and Sunday from 15h. One special highlight will be the Great Train Fairy Tale from the DNO Theater and Klub Leitnerova, created under the direction of Jiří Jelínek, as well as the Repair Fairy Tale from the KAM Theater. At 16h on Sunday December 15th, besides the normal fairy tales, you can check out a Christmas shadowplay workshop by the Líšeň Theater. For children there will be a carousel and a Christmas train, and for the tiniest visitors there will be a heated Baby Point with facilities for breastfeeding, a baby-changing table, a children's dining chair and a mini play corner.
Advent on Moravák will also have a charity element, with 13 non-profit organisations selling gifts to raise money for their various good causes, including the Saint Elizabeth Hospice, the Rainbow Movement, and PARAcentrum Fenix. One new part of the festivities on Moravák this year will be a box for positive Christmas cards, which are designed for seniors in retirement homes and children in orphanages who do not have families to wish them a Happy Christmas and show them love.
Zelný Trh
The market at Zelný trh is imagined as a place where people can slow down, avoid the chaos, and enjoy the atmosphere of traditional Christmas, browsing traditional folk handicrafts and finding a space to share with their friends.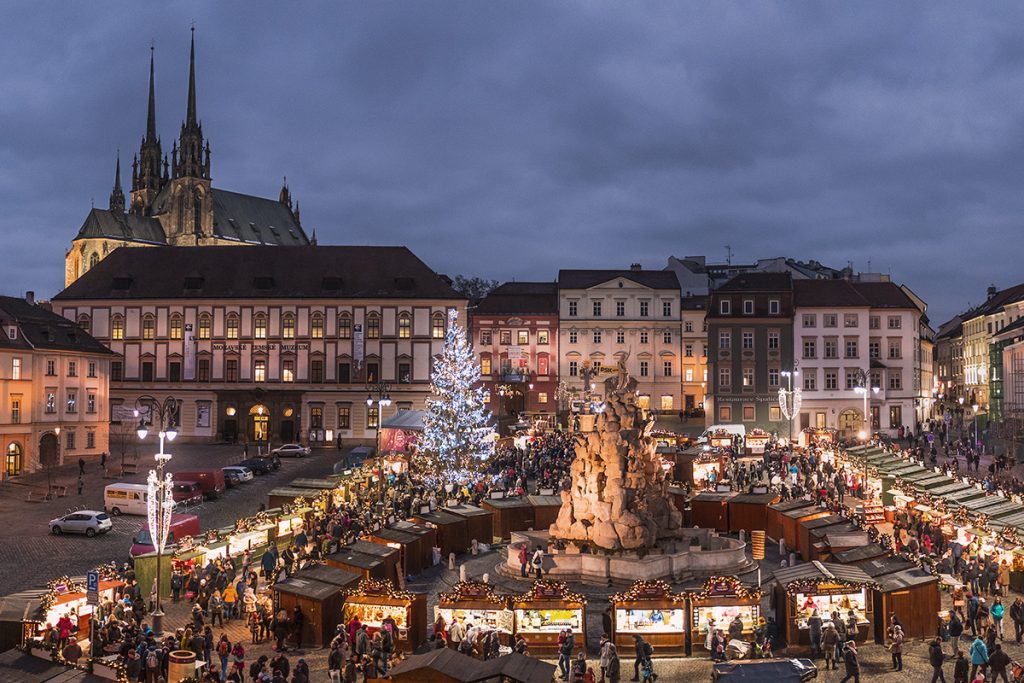 "To enhance this experience of the market, we are decorating in the spirit of old traditional Christmas, so gingerbread, wooden ornaments, straw and other natural materials will take center stage, as well as cosy wooden stalls, vendors in folk costumes, street musicians singing folk songs and carols with the crowd, and space for good deeds," said Eva Skácelová, coordinator of Advent at Zelňák.
More than 60% of the 120 stalls will be dedicated to Christmas craft goods, gifts and decorative items, complemented by a selection of traditional drinks and snacks. There will also be two stalls dedicated to 21 different non-profit organizations. Children and pupils from kindergartens and elementary schools from Brno and its surroundings will perform on the stage over the season, as well as swing, folk, pop-rock and other bands. Every Saturday at 18h the Advent stage will transform into a spiritual space, and the candle will be lit to the sound of carols. 
The Bauer family has donated an 18-metre Douglas fir Christmas tree for Zelný trh, which will decorate the square until January 7th. The tree was estimated to be 35-40 years old and grew on a plot in Brno-Přízřenice, where the family plans to build a house.
Skating Under Jošt
The skating under Jošt will open to the public on November 27th at 17h. The 860 m2 rink has a capacity of 80 skaters. Skating will be open in four two-hour blocks from 10h to 21h, with an hour break between each block. Admission will be the same as previous years; adults pay CZK 100 per block, and children under six skate for free. Children from 6 to 15 years, seniors, and holders of ZTP / P cards pay CZK 60. Visitors will be able to rent skates at the cash desk. On Christmas Eve skating will be from 10h to 14h, and on New Year's Eve until 22h. On New Year's Day the rink will be closed.
From January, the morning block from 10.00 to 12.00 will be dedicated to free skating for children and pupils of kindergartens and elementary schools in the Brno-Střed city district.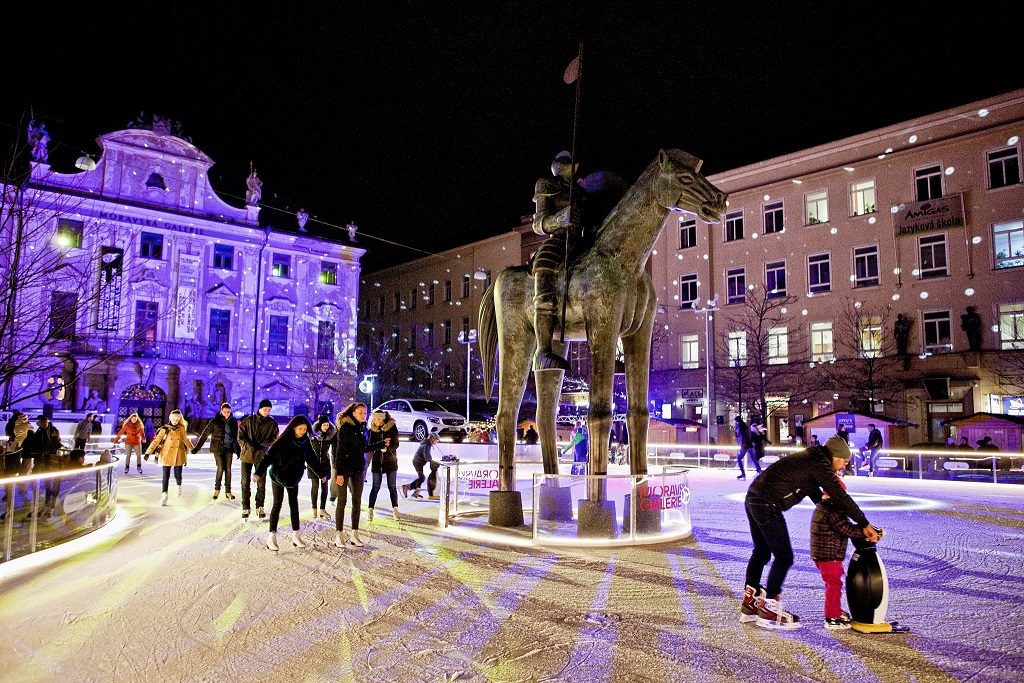 Other Advent Attractions In Brno
Of course, Christmas doesn't begin and end with markets. When you've finished browsing all the shops and stalls, continue soaking up the atmosphere by viewing all the festivities from the height of the Old Town Hall Tower, where opening hours will be adjusted for the occasion. And as well as the hot wine, you can also stay warm by taking a trip to Brno's underground sights, which maintain a pleasantly warm temperature perfect for the midwinter. 
You can also take a leisurely guided walk through one of Brno's monasteries, or sit in one of the city's heated tourist minibuses and enjoy the sights of Brno's functionalism and famous villas. The prison in Cejl will also be open, so you can remember all those who suffered there, and were not so lucky. Christmas in Brno brings the whole city together and offers many different experiences. Find out more at www.brnenskevanoce.cz.
Christmas Gifts From Brno
Christmas souvenir mugs will once again be available, designed by a local artist. This year's design was created by abstract artist Pavel Hayek, and the mugs are decorated with fabric textures and polka dot patterns in three colours. These patterns will be seen throughout Christmas in Brno, online, and decorating the streets. 
Another tip for a great gift is a modern Brno porcelain set, with a motif of a "dragon" skeleton, and a reliable gift for children is the Janáček memory game by Vendula Chalánková. New for 2019 and the 30th anniversary of the Velvet Revolution is a children's book, "How It Fell", but there are plenty more books for young and old to enjoy, such as the "Interior Design Guide" photo collection, which compiles the 50 most beautiful interiors of Brno and South Moravia in terms of contemporary design.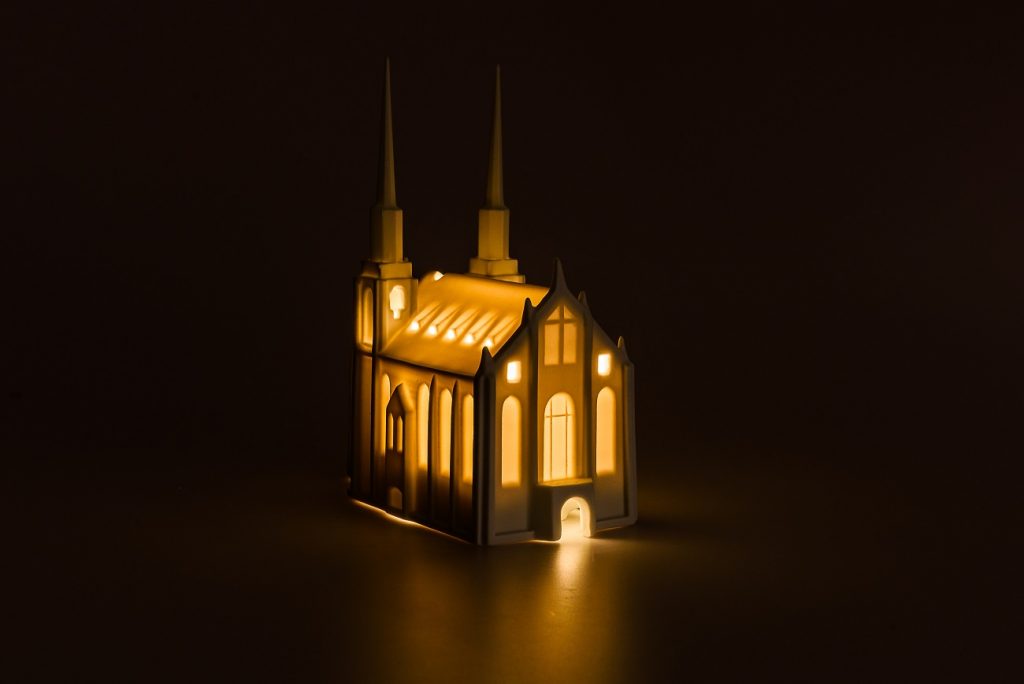 You can buy gifts from the temporary store on náměstí Svobody, in the permanent Tourist Information Centers, or from the e-shop at www.darkyzbrna.cz.
Get the news first! Sign up for free to our daily newsletter here. Top stories of the day in your mailbox every morning.
https://duzr.site.brnodaily.cz/2019/11/19/brno-christmas/christmas-in-brno-where-to-go-and-what-to-expect/
https://duzr.site.brnodaily.cz/wp-content/uploads/2018/12/Brno-Christmas-2018-6-1024x819.jpg
https://duzr.site.brnodaily.cz/wp-content/uploads/2018/12/Brno-Christmas-2018-6-150x120.jpg
Brno Christmas
Czech Republic / World
Brno,Christmas,Czech Republic,Events in Brno,New Year's Eve,News
Every year at the end of November, Brno comes alive with the magic of Christmas. Here you can find all the information you need to enjoy the festive winter months. Photo: Zelný trh. Credit: CG / Brno Daily. The most magical time of the Brno calendar is nearly upon us,...
Jack Stephens
jack.stephens50@gmail.com
Author
A writer and English teacher originally from London who has lived in Brno since 2011, interested in politics, low culture, and all things strange and/or Czech.
Brno Daily