Open Debate: "Expats in Brno: The Current And Future Situation" at Jobspin Job Fair
If you are an expat living in Brno and want to make your opinion heard, then here's your chance. The public debate "Expats in Brno: The Current and Future Situation" is the perfect opportunity to meet other expats, listen to their opinions, and discuss all the topics that affect your daily life in Brno. Like every year, the Jobspin Multilingual Job Fair is free for all expat job seekers. Photo: Jobspin Job Fair March by CG.
Brno, Oct 15 (BD) – The open debate "Expats in Brno: The Current and Future Situation" is part of the Jobspin Multilingual Job Fair powered by Brno Daily, which will take place at Brno Tržnice on October 19th, from 10am to 16:30. The debate will take place after the main program of the job fair (see the program).
"We will collect questions throughout the day at the job fair, just ask for a submission paper at registration. The forms will be anonymous, as we want honest feedback," explained Katerina Kukrechtova from the Jobspin organizing team. "People can also write their questions on the Facebook event page or send them to us via email at team@jobspin.cz before the event," added Kukrechtova.
The debate will feature a panel of expert guest speakers representing various stakeholders in the City of Brno. "People can expect a forum where the current situation of the expat community in Brno and Czech Republic will be discussed, a panel of experts all related to that field will be sharing their take on it and answering questions from us and from the audience, as well as some opinions we get from our social media channels. It is an important event that should interest any expat and anyone whose life or work has something to do with the expats in the country," said Carlos Moreno, host of the Open Debate. The speakers will listen to the problems you might have faced as an expat, discuss them with you, and strive to find solutions for a better future.
Lucia Konopkova, Senior Consultant at Brno Expat Centre, will launch the debate with a short overview of the most interesting results from the recent BEC survey, conducted earlier this year with over 1,000 Brno expats. "After Lucia's introduction, we will give the audience the floor. People will have the chance to ask any of the panel anything they want to know," said Moreno. For all questions related to visas, relocation, or personal experience with bureaucracy, you can ask Jan Kalina, a relocation expert from Move to Prague, and Mark Harrison, founder of the Association of Credit for Central and Eastern Europe and a Brno expat of over 10 years. The City of Brno, and the political side of the discussion, will be represented by Marek Fiser, Brno City Council Member for Culture. Brno Daily's Carlos Moreno will chair the debate.
About Jobspin Job Fairs: Jobspin Job Fair is a great choice for candidates with excellent language skills and international education and work experience. So if you want to find a job that matches your preferences, speak with potential employers, and network, this is the place to be.
Who Are Our Speakers?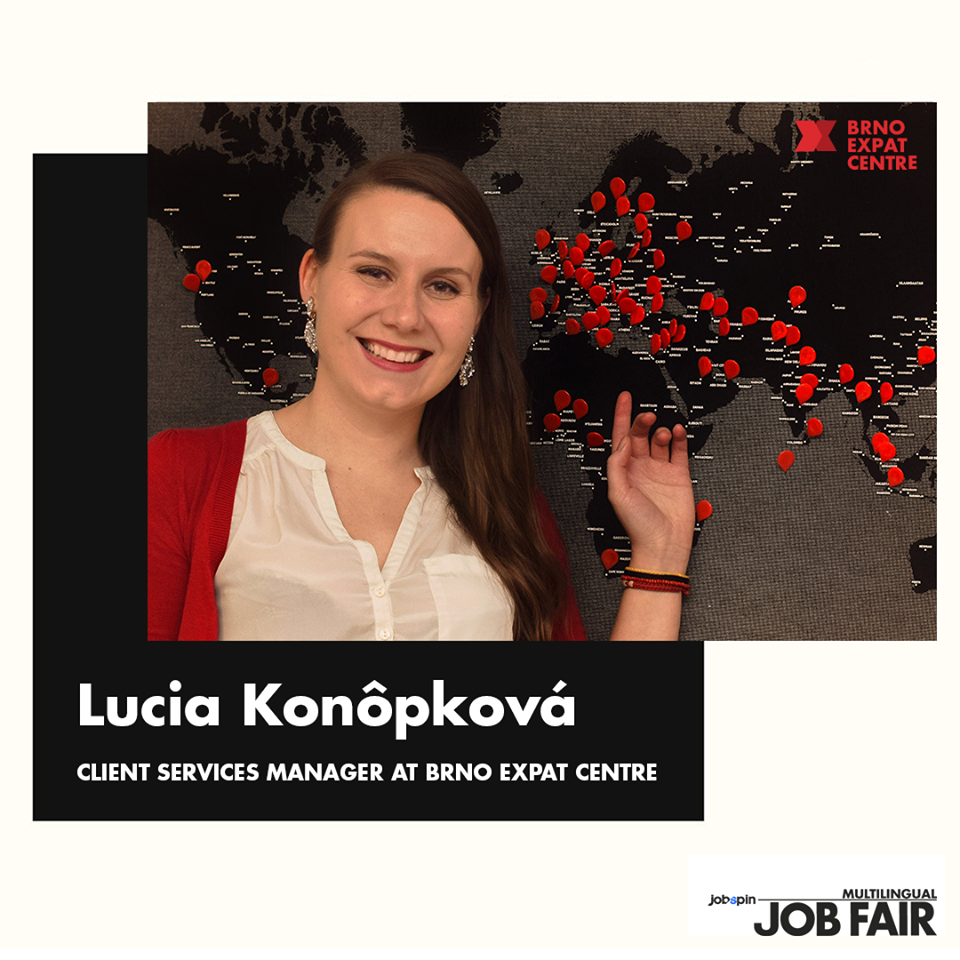 Meet our first guest! Lucia Konopkova is a senior consultant at the Brno Expat Centre, who has been helping expats become local in Brno for nine years. Her expertise covers all aspects of a foreigner's life in the Czech Republic, from bureaucracy to family and health. She's also the head of the centre's family of expat-friendly services that are tailored to foreigners.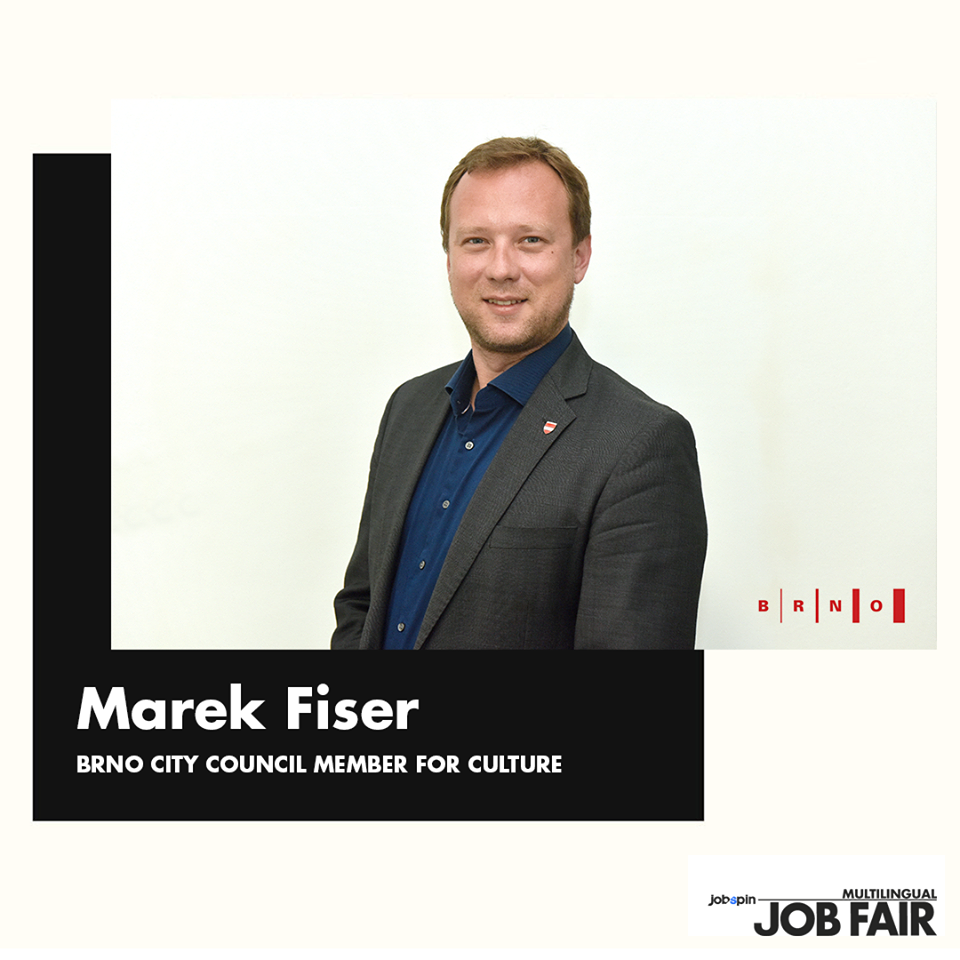 Marek Fiser has been the Brno City Councillor responsible for culture and Chairman of the National Minorities Committee of the Brno City Assembly since November 2018. Under his leadership the City of Brno has started working on a bid to become the European Capital of Culture 2028. His priorities include the introduction of measures leading to transparent management of public funds, as well as support for both major cultural events held in Brno and the alternative artistic scene. He is engaged in various community activities and projects.
He graduated from the Masaryk University Faculty of Arts (Bachelor's degree in Dutch) and from Jan Amos Komenský University in Prague (Tourism Management). He speaks several world languages.
In the past he was active in state administration. He worked at the Economic Department of the Dutch Embassy in Prague (2009–2014), responsible for international trade and public diplomacy. He also worked in the Logistics and Organisation Dept. of the Office of the Czech Government during the Czech Republic's Presidency of the European Council (2008–2009), responsible for participants' accreditation. He has also worked in media.
Marek Fiser is also Chairman of the City Council Advisory Board for the Integration of Foreigners and Chairman of the Committee for National Minorities, and is therefore engaged in activities and projects related to expat issues.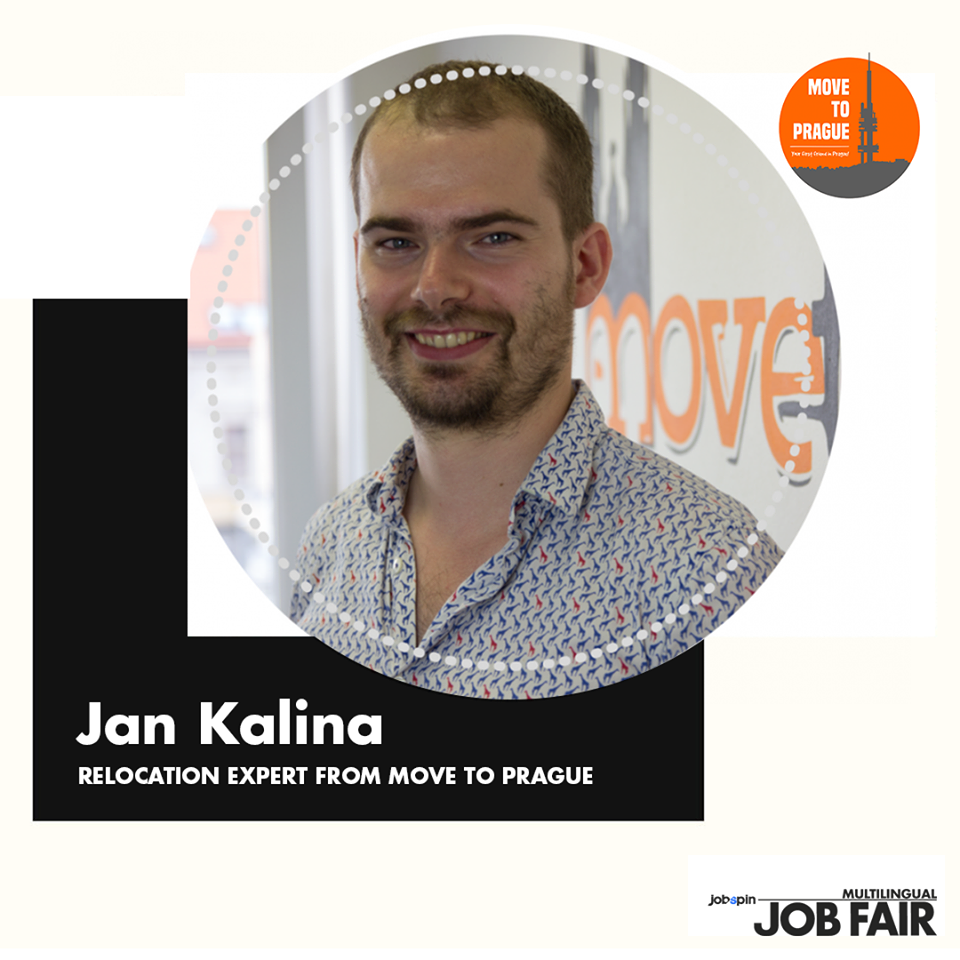 Jan Kalina is one of the co-founders of MOVETOPRAGUE and MOVETOBRNO Relocation Experts. He is Czech, but his love for foreigners and his desire to help everyone led him into this profession many years ago, and he is enjoying every minute! Jan specialises in Employee and Blue Cards, but is ready to answer your questions about anything else!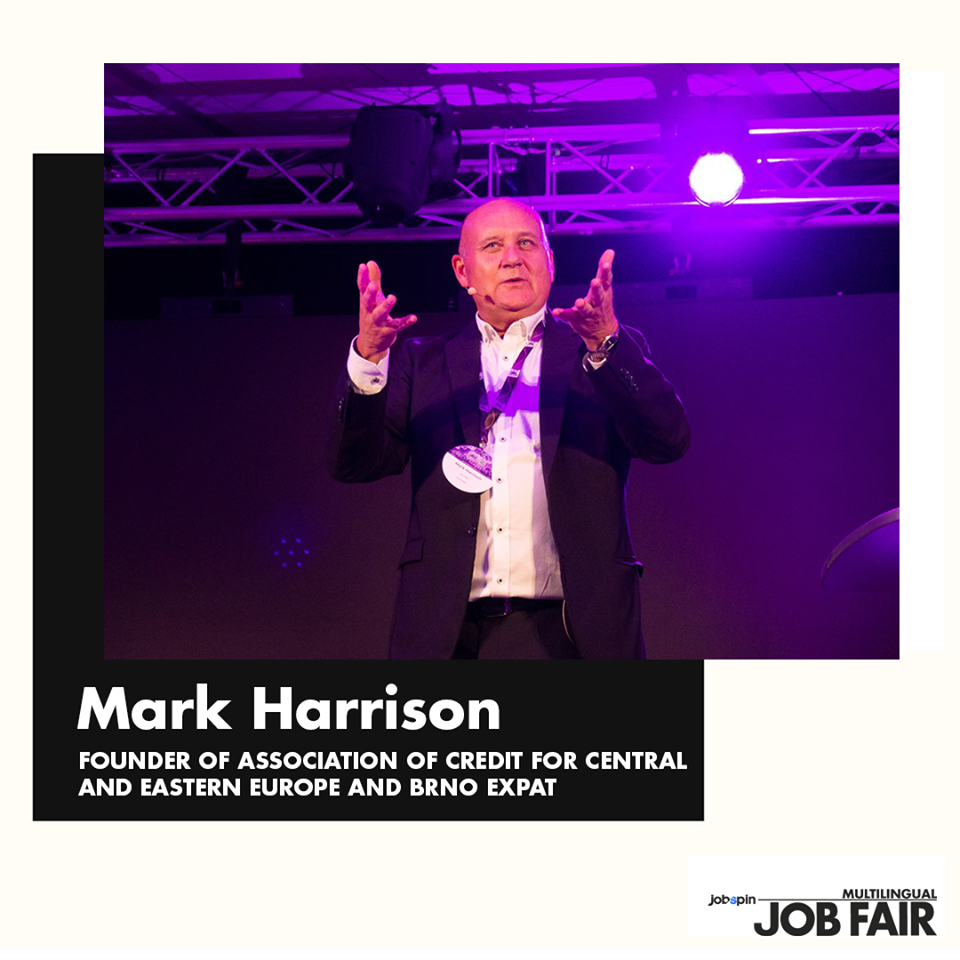 Mark Harrison has been involved in Credit Management for 35 years and is consistently focused on raising the profile of the Order to Cash stream. His career experience spans a range of industries across EMEA and includes the transition and development of successful Order to Cash functions in the Shared Services sector in Central Europe.
Being a firm believer in the Shared Services concept and its potential, Mark is a regular presenter at events across Europe sharing his first hand operational experience, inspiration, passion and enthusiasm.
Mark is the founder of the Association of Credit for Central and Eastern Europe (ACCEE), holds a BA (Honours) degree in Credit Management from the University of West London, is a Fellow of the UK CICM  and is Catalyst level in Lean / Six Sigma methodology.
ACCEE is committed to training and education and has delivered innovative e-Learning workshops and qualifications to more than 1,500 O2C professionals across the CEE region in 6 different languages, with a +93% approval rating. In addition they have developed a simple but highly effective Comparative Performance Measure and recently added AI and BI to the very popular Telephone Collections Workshops.
Carlos Moreno is an expat who's been living in Czech Republic for the last two years. He has a BA in Human Rights and Peace Building, has been a pro-democracy activist in Mexico, and was the journalist owner of his own digital news agency, supported by the local autonomous University.
Find more info on how to attend the Jobspin Multilingual Job Fair Brno and join the Open Debate about expats in Brno on Facebook. You can register here (entry is free of charge).
Get the news first! Subscribe to our daily newsletter here. Top stories of the day in your mailbox every morning.
https://duzr.site.brnodaily.cz/2019/10/15/events-in-brno/open-debate-expats-in-brno-the-current-and-future-situation-at-jobspin-job-fair/
Events in Brno
Brno,Brno Expats,Employment,Events in Brno,Expats Czechia,Job Fair,Jobs,News,Politics
If you are an expat living in Brno and want to make your opinion heard, then here's your chance. The public debate "Expats in Brno: The Current and Future Situation" is the perfect opportunity to meet other expats, listen to their opinions, and discuss all the topics that affect...
Guest
team@jobspin.cz
Editor
Brno Daily